It's never a dull moment in Russian equities. In early 2011 they soared 21 per cent, on strong oil prices and hopes of a global economic recovery, an increase four times larger than the 5 per cent rise in global emerging markets.
In the grim months that have followed, Russia is down nearly 30 per cent, compared to a 21 per cent drop in EM overall. And there's little chance of a recovery without a meaningful resolution of the euro crisis.
Russia's volatility stems from its dependence on exports of oil, gas and metals. When the global economy is growing fast, demand for commodities grows too, and commodity prices often overshoot.
The gains bring particular benefits to Russia because it is stable and the public finances are solid (thanks to natural resources tax revenues). Conversely, when the global economy slows, commodity prices tend to weaken and the effects on Russian equities are especially severe, like this summer/autumn.
The swings are accentuated by the fact that foreign investors dominate trading in Russian equities – holding around two-thirds of the free float, once state and oligarch shareholders are excluded.
So when the foreigners rush for the door, they tend to break off the hinges as happened in the 2008-09 crisis. With this year's crisis coming as less of a shock than Lehman Brothers, the effects have been less dramatic but are still painfully clear to investors.
Take a look at this chart, which compares the 2011 performance of the RTS, Poland's WIG and the MSCI emerging markets index: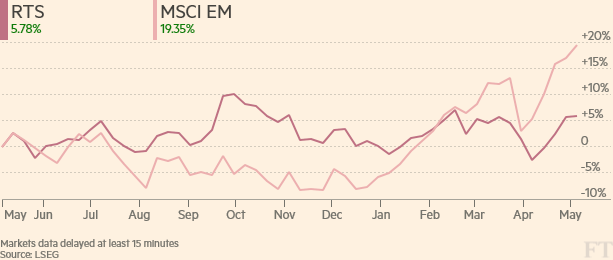 Chris Weafer of Troika Dialog says there's little chance of a change until the world outlook improves:
Despite the currently strong domestic fiscal and monetary picture and despite the fact that assets are trading on average about one-third that of EM peers, the market will not materially out-perform the global trend until investors have more confidence that the US/EU can avoid a serious slowdown and China can manage a very soft landing in 2012. Only then will we see the Russia move strongly ahead as it did in the first 4 months of this year and in the October global markets rally.
The curious point in this sell-off, unlike 2008-09, is that Russian shares are sharply down even though the oil price has held up because of the Middle East turmoil. Normally, the RTS tracks the oil price fairly closely, but this time it hasn't, as this chart demonstrates (note the divergence towards the end of the chart):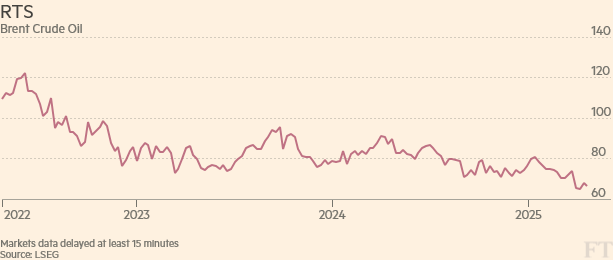 Now, it could be that it is oil prices that are "wrong". They could be set for a fall if the coming economic downturn is even more severe than expected, with oil demand easing in China and other key EMs, as well as in the west.
More likely, it's that Russian equities have been dumped in the general flight to safety, which has seen a lot of indiscriminate selling.
If that's the case, Russian equities could be ripe for a rally. It's hard to imagine one coming while the eurozone crisis rages, with even Dutch bonds being dumped this week.
But if European Union leaders finally get a grip, then it could be time for a more selective look at EM equities – and Russia might benefit. Russian domestic political developments might help the mood.
There's been a lot of hype about prime minister Vladimir Putin's decision to stand again for the presidency. While this has generated some heat in Moscow – notably with finance minister Alexei Kudrin's sacking – it's overwhelmingly likely that Putin and co will engineer a smooth return to the Kremlin.
Given Putin's ambivalence about economic reform, that's bad in the long term. But his safe return to the presidency could still encourage some investors – Russian and foreign – to bet on political and economic stability. They will judge that there's plenty of money to be made in Russia even without reform, at least for the next couple of years.
Russia bulls, like Weafer, tend to grasp at any signs that investor behaviour might be changing. After all Russian stocks are extraordinarily cheap, trading on an average price to earnings multiple of just 6, compared to an average for the MSCI index of around 10 times.
Weafer says there has been a "tentative increase in allocations to Russia" in large EM and regional equity investment funds. According to data from EPFR, the research company, the total new allocation of money to Russia reported last week was $75m – a third straight week of net positive flows at a difficult time in world markets.
This is hardly the flood that would signify a real change in investor attitudes to Russia. But it shows that at least some fund managers are reassessing the prospects for the Cinderella Bric.
Source: blogs.ft.com